Slip & Fall Accidents Attorney in Canton, Ohio
Don't Pay for Someone Else's Negligence
Seek Medical Compensation for Your Slip-And-Fall Accident in Canton, OH
You never expected to fall, and you certainly never expected to get injured the way you did. You don't have to pay for an accident that proper safety precautions would have prevented. To help you seek medical compensation for your slip-and-fall accident, reach out to A. James Tsangeos, Attorney at Law, LLC. You can trust attorney Tsangeos to fight aggressively for your due compensation.
5 Important Steps to Take After a Slip-And-Fall Accident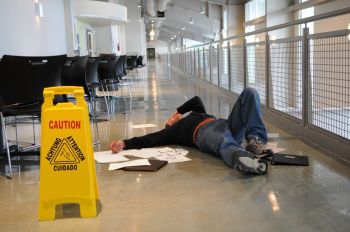 Slip-and-fall accidents can be frightening if you don't know what to do after you've fallen. If you slip and injure yourself, you should:
Alert the owner or manager immediately and seek medical attention.

Take pictures of your injury and of the scene of the fall.

Speak with witnesses who saw the fall.

Take down their information.

Save any clothing you were wearing when you fell.
---
Before contacting your insurance company, you should speak with a dedicated personal injury attorney from A. James Tsangeos, Attorney at Law, LLC. You can get in touch with attorney Tsangeos in Canton, OH by calling today.
Slip and Fall: Causes, Types of Injuries, and What to Do
Accidents involving slips and falls are included under the broad category of premises liability accidents. Falls in retail establishments, eateries, apartment buildings, recreational facilities, and theme parks are the subject of premises liability cases. Understanding what to do after a slip and fall accident is crucial because the injuries sustained from slipping and falling in a store or on someone else's property can occasionally lead to permanent disability. Here, we provide a list of causes of slips and falls and discuss potential injuries, including what to do in the event of an accident of this nature.
What Are Slip and Fall Accidents?
Slip and fall is a term that refers to the type of accident that occurs when an individual trips or slips on someone else's property and sustains an injury. The landowner or business owner may be held liable if a person is hurt on their property due to hazardous conditions.
Causes of Slip and Fall Accidents
The common causes of slips and falls include:
Wet and uneven walking surfaces

Trash or debris on the ground

Uneven stairs
Crosswalk with cords

Broken or absent handrails

Poor lighting

Transitions between different types of flooring

Exposed electrical wiring
The presence of potholes in parking areas
Types of Injuries Sustained During Slip and Fall Accidents
Here are some injuries that could be sustained because of a slip and fall accident:
Traumatic Brain Injuries
You require immediate medical attention if you fall and hit your head, especially if there is swelling, bleeding, or even a momentary loss of consciousness. While less severe traumatic brain injuries (TBI) usually heal independently, more severe TBIs can permanently impair your ability to function.
Spinal, Back, and Neck Injuries
The spinal cord and our necks and backs are connected. Devastating impairments can arise from slip and fall accidents that result in the pinching, bending, or breaking of a portion of the spine.
Soft Tissue Injuries
Soft tissue injuries range in severity from minor ankle and wrist sprains to debilitating tears in tendons and ligaments. Soft tissue injuries, if left untreated, may make you more susceptible to further injuries and cause chronic pain.
What To Do After a Slip and Fall Accident
Any actions you take or do not take after a slip and fall accident can affect the outcome of your claim. The following steps can be taken to ensure your safety and that you receive fair compensation for your damages:
Seek Medical Care: This should be a priority. It's advisable that you call for medical assistance to ensure that you're stable, even if you feel fine after the fall.

Determine the cause of your accident and record evidence of the fall: Take pictures of the area where the accident happened. You may also get the names and contact information of any witnesses to your accident.

Report the incident to the owner or manager of the property: This is important, especially if your injury occurred in a public setting, like a grocery store or restaurant.

Consult a Personal Injury Attorney: You may be able to file a claim for compensation if another party's negligence caused your fall.